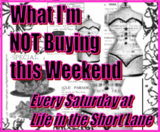 I'm NOT going to indulge my passion for fun 1970's fashion.

If you went to Junior High School the same year I did, when "Seasons in the Sun" was a mega hit and your boom box looked like this:
then you may find yourself sniffing back a tear or two of nostalgia.
Most definitely, the shoes to GO with those Dittos?
I own a pair similar to the black ones above. I scored them on eBay two years ago. They were brand spanking new, languishing in a warehouse somewhere in Jersey until I rescued them. I wear the heck outta them. Famolare Hi Ups: Best shoe.
Ever.
And I'm not going to buy any of these looks for day,
Or anything Disco Queen for night, like this el perfecto wrap dress.
Nor will I, unfortunately, buy the perfect car to drive it all in: