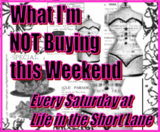 Although my passion for bling will never match my passion for shoes, I do possess a rather large Jones for Indian (Native American) jewelry. Growing up, we lived about 30 miles east of the Navajo Reservation at Torreon. Which meant that for much of my early childhood, my mom traded food, trinkets, books, and friendship with the local Navajos in exchange for their jewelry and rugs. She did the pawn shop thing, too. The result is that I inherited not only some mighty fine things, but also her savvy for identifying high quality, distinctive Native American arts and crafts. Most of which is now way beyond my price range.
Like this Kirk Smith cluster bracelet. Be. Still. Moi's heart.

Okay, to be fair, I own a Kirk Smith cluster bracelet.
It looks like this one.

I was lucky enough to purchase it about five years ago at Skip Maisel's in downtown Albuquerque for a fraction of what these now go for. Kirk must have been out of fashion at the time. Now he's back in. Go figure.
But the red one above? That's about as special a bracelet as I've seen in years. Sure, life will go on without it. It has to, because my bank account won't go on
with
it. That red bracelet goes for about $1,200 smackers, Party People.
And you know what? I'm glad. For too many years, our Native peoples haven't been taken seriously as the artists they are. But they have been taken for granted. Pawn shop and gallery owners alike would purchase their wares for a song and mark them up outrageously for the tourists. Today, thanks to organizations like the Indian Arts and Crafts Association, these artisans are more in control of their work and receive fair compensation in both the wholesale and retail markets.
Still, I dodged quite the bullet this week, don't you think?