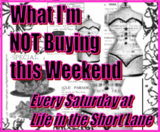 I'm serious. Falling Water is one of the few buildings in the world that can actually make me cry just from looking at a photograph, it's that beautiful, that perfect a union of man and nature, form and function, site and structure.
At one point a few years ago, Falling Water
was
up for sale. There was talk that Brad Pitt and Angelina Jolie were interested in it, but then the Western Pennsylvania Conservancy stepped in with a butt load of funds and a mission to preserve, maintain, and make this masterpiece available for public education and appreciation. Thus saving one of the greatest buildings ever constructed from the wrath of sticky-fingered sproglodites and ensuring my retirement fund remain intact (I would have had to rob a few banks, too).
So, there's going to be a lot I'm not buying this, and upcoming, weekends, because Falling Water is now open to the public for tours. I do believe I'll have to make the pilgrimage.

This weekend's savings? About a gazillion dollars.
Log onto the Conservancy's way cool Web site to learn more: http://www.fallingwater.org/