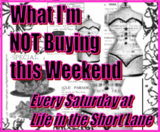 I'm participating in a new Meme Thingee started by
Margo over at Life in the Short Lane
.
A shopping spree to be sure, but without the changing room hassles, the credit card bloat, and the inevitable remorse-slash-panic-slash-tummy-tumult that occurs about two hours later, when you realize you went home at two with a ten and woke at ten with a two. Ladies, you know what I mean. That Trina Turk peasant blouse for 50 percent off that looked so Boho fabulous in the store under those hallucination-inducing lights now looks like something your mom would have worn to schlep the vacuum cleaner around in those last few minutes before your father's inevitable return from the 9-to-5 trenches.
So, here's what I'm not buying this weekend:

Le sigh.
I so long for one of J Crew's fabulous bib necklaces for summer. They're a great way to fill a neckline on a low cut blouse or strapless summer dress. But at $175, no way, Jose.

Also from J Crew and quite the bargain at $135 given its high quality material and perfect tailoring. Alas, that's $135 smackaroos too many por Moi.


So, that's, what, a savings of $310.00, right there. And, we haven't even talked about the shoes I didn't buy, which you can for darn sure bet clock in at another couple hundred.
I don't usually do flats unless it's a running shoe or riding boot, but these Antik Batik Porter Tong Brass Beaded Sandals (currently at Piperlime for $200) are to die for. With whipped cream and one of those weird ass pink cherries on top (but no nuts). The perfect shoe in which to frolic along the beach in Malibu to the background sounds of breaking surf and Fleetwood Mac's
Rumors
and me without a care in the world except how in the heck fire am I going to pay for it all.
Oh, wait! I don't have to pay for it because I didn't buy it! Wow. Virtual shopping is going to save me soooooooo much money.